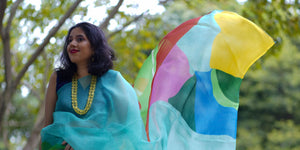 The HeART Project
---
The Heart Project is a multi-dimensional, meaningful collaboration between Six Yards Plus and Mitra for Life, a Bangalore based non-profit that works with children and young people with Autism, Down's Syndrome and other Intellectual Disabilities.
It consists of art works which are original paintings made by neurodiverse artists, which have been made into stunning sarees, and have been modeled by neurodiverse models from the Mitra for life family. 30 percent of all revenue from this line will go to Mitra for Life and the artists involved, to support their activities.

Special Artists. Special Sarees. Special Models. It's a whole checklist of good things.