Sarees. Simplified.
Green Fashion. Artisanal livelihoods. Culture Conservation. Powered by Tech.
Six Yards Plus operates at the cusp of culture, livelihoods and loomcraft.
Discover our range of handwoven, artisanal, signature sarees.
Experience our workshops and events.
Explore our bespoke services.
#gothewholesixyards
HYDERABAD
featured!
Thrilled to have been recognised by YourStory for reviving a love for sarees. So much more has happened since then, but the beginning is always memorable.
Read the coverage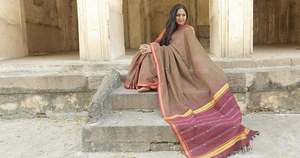 Sarees 2.0
A saree is never just a saree. It is a forever kind of love story that transcends time and form. Presenting Antara- a collection of thoughtfully designed home decor products made from upcycled sarees. Sarees, but make it 2.0!
New! Home decor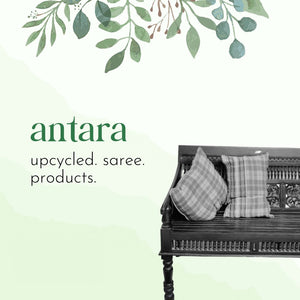 Blog
---
Wrap. Hook. Flip. There are many things that can be hard about adulting. Sareeing need not be one of them. That is why, we present to you, the INSTANT SAREE. It's as...
Some things we have learnt over the past 4 years in building a women-centric enterprise.
What does it take to bring a traditional craft to a timeless saree? The story of Cheriyal Chronicles from our drawing board to your wardrobe.
Buy Latest Sarees Online
Are you still looking for "latest sarees online?" Get handcrafted sarees online from Six Yards Plus
Six Yards Plus operates at the cusp of lifestyle, culture & loom-craft. Offering a wide range authentic sarees online, we are the go to place for all things saree.
Six Yards Plus was born out of our fundamental belief that sarees truly are power dressing, and that unless we helped somehow enable them to become regular wear, they would become exoticised- to be draped at weddings to begin with or as a special showcase of culture eventually, like the Kimono.
Sarees have always been versatile, multi-purpose, truly up-cyclable and long lasting. Whether one is 18 or 80, the elegance of a saree remains unmatched for all shapes and sizes of women. It is a faithful companion, seeing a woman through all the important milestones of her life.
So why is it that many women don't choose the saree as their choice of work wear anymore? Now, more than ever, it's easy to access sarees- you can buy sarees online with ease, it's easy to style a saree- you don't need matching blouses, crop tops paired with sarees are all the rage, it doesn't matter that your drape is not traditional, it's very much open to interpretation. And now, more than ever, there is an increase in interest in traditional crafts and weaves.
And yet, in our conversations with women in their 20s and 30s independent and multi-tasking, it comes across that draping a saree is not something they consider doing because they perceive that they are too busy, that it's meant for 'older' women, that there's too much paraphernalia around the saree or that it's just not worth the hassle.
This is where the idea of Six Yards Plus took shape. Our mission is simple- to make sarees fun and interesting to own and drape and to take the hassle out of putting together a saree look. We bring you latest sarees online to help you chart your own saree journey- discover what you like and what you don't over conversations, consultations and experience.
Looking beyond just latest sarees online and creating a saree experience.
We do all things sarees-You can get handcrafted sarees online from us. Our products include handpicked sarees from across the country, signature collections designed in house and executed in collaboration with a wide network of weavers and artisans who work with us, curated and specially created blouse pieces that make the experience of draping the saree much more fun, ready-made blouses to suit all occasions so you never have to go running after a tailor again, curated jewellery and accessories from across India to help you put together the whole saree look, customisable saree starter kits and gift boxes that make selecting and draping a saree super easy and fun. You can buy sarees online directly, or reach out to us, and we will help you out with whatever your requirement is!
Our services include-custom blouse tailoring online and across the world, custom sourcing of blouse pieces and sarees for occasions and events, custom preparation of tamboolams/gifts and giveaways with sarees and blouse pieces as the centre-piece, made to order sarees for corporate clients, all preparation work for sarees- falls, netting, tassels, knots, anything that is required to get your saree ready for draping. All at your convenience, at a time of your preference and at a budget that you set. We also have a special subscription service in Beta right now, where we send over a ready to drape saree set to subscribers at regular intervals- monthly, quarterly, once in 6 months, or annually. Send us a message if you'd like to be included. So you never have to go look for latest sarees online again. They arrive at your doorstep 😊
Six Yards Plus puts soul into saree shopping- helping you shop latest sarees online with ease!
We live and breathe sarees. For me, and for my team, sarees are a means of self-expression and power. We have actually experienced the versatility, sustainability and strength in a saree- and we genuinely want other young people to experience the same. That is one of the key differentiators of Six Yards Plus- the idea that we are passionate about what we make and sell and the fact that we are both consumers and producers of our offerings.
We operate a 'Saree Adda' or a 'Saree Lounge' not just a saree store. We bring together everything that one needs to create a saree look. You don't just buy sarees online with us. If we don't have it off the shelf, we customise it for our clients. We have a library of books on a range of topics on all things saree and crafts, and we actively engage our community of saree shoppers to be more aware and mindful of what they are buying, deepening their connect with the product and of course with our brand of saree selling. So, when a customer walks into our store, they are partaking of a whole experience around sarees.
Most importantly, we understand sarees and crafts from both the supply side and the demand side.
Personally, I have draped sarees all my work life, and have a deep understanding of weaves and crafts from across India. I have also worked with crafts persons and engaged closely with many enterprises in the area. So, the combining of crafts, giving insights into the 'story' of a saree and understanding the socio-economic context of our products comes naturally to us at 6 Yards Plus.
Why did the Kunbi weave from Goa become extinct? How does the Ikkat technique change from state to state in India? How do you tell a handloom saree from a powerloom one? Are there really over a 100 ways of draping the saree? How do I make a saree work like a skirt? Why is it that Bengal and Andhra Pradesh have the highest number of local weaves? Did you know that clusters that traditionally wove bedsheets, shawls and towels, all from different parts of India are now applying the same craft to sarees in order to realise higher value for their product? Is it really as easy as people say, to buy directly from weavers? How have Government initiatives empowered crafts and looms- are there good examples of these? What kinds of surface embellishment would work with what kinds of base fabric? Why do indigo fabrics always run colour? Is all the Khadi available in the market really Khadi? How would I style a saree with a crop top? How do I take the saree from a work look to a party look? How does one combine design with functionality so that someone in their mid-twenties chooses to drape a saree to work?
To me, these are all facts and concerns that make up an ever-deepening learning and understanding about sarees, and the economics surrounding the preservation of intangible heritage. To us, therefore bringing authentic sarees online is priority- not just as a product, but as an experience in itself.
In summary, we combine a deep understanding and passion for looms and crafts with a solid business grounding and entrepreneurial spirit, bringing latest sarees online to busy, accomplished, multi-tasking women, world over!