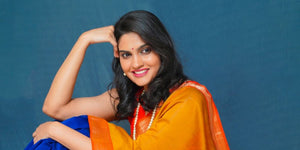 Khoobsurat Mod
---
Sustainability, design, quirk and kitsch brought together in this collection of patchwork sarees made from unused pieces of fabric- each saree as unique as you, and each thread destined to be yours. 
Sahir Sa'ab once said- woh afsana jise anjaam tak laana na ho mumkin, use ik khoobsurat mod dekar chhodna accha....
It is better to give a beautiful twist to stories that cannot be culminated in their original form. 
This is the driving force behind our collection- Khoobsurat Mod.
We have created a gorgeous patchwork of sarees from all those fabrics that could not be brought to you in their original form for some reason or another. Some are sarees that were short in width originally, some are blouse pieces that had defects in them, and some were just bits and bobs that were destined to be a part of this series. 
We have put our mind and soul into each of these sarees, and we really really hope that you will enjoy the collection as much as we enjoyed putting it together.