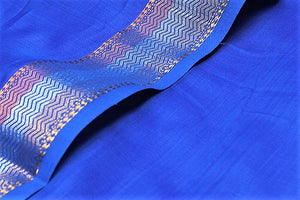 Trimetal
---
In this Signature collection by Six Yards Plus, the Maheshwari Saree is elevated by reinventing its "Lehar" border in the three metallic shades of Gold, Silver and Copper. 
Elegant and refined, these sarees are the perfect mix of grace and style. 
Trimetal
Buy Zari Border Saree Online
Six Yards Plus brings to you an exquisite collection of handloom Maheshwari sarees to shop online. With playful elements of tinted zari border saree and easy-to-drape cotton silk fabric, our Maheshwari cotton silk sarees are hard to miss.
And these facts about the Maheshwari cotton silk saree will only make you fall in love with them all over again!
More About Maheshwari
The name Maheshwar brings memories of the beautiful and mighty Narmada and the strength and elegance of Maharani Ahilyabai Holkar. A centre of handloom weaving since the 5th century, this historic town has been producing stunning handloom Maheshwari sarees and fabric.
The delicate Maheshwari fabric is woven with pure silk and pure cotton yarns, which gives it a soft texture. These yarns are painstakingly interwoven to create a solid body incorporating graceful and contemporary cotton flower, jasmine, swan and diamond motifs on the borders.
Of Zaris and Stripes...
A typical Maheshwari cotton silk saree comes with an intricate zari border and the unique five stripes on pallu. The border is usually made with zari thread, sourced from Surat, in gold, silver and copper hues. We have focused on curating these amazing silver zari sarees online at our site. Giving you an opportunity to add one of these everlasting beauties to your collection.
Jewel colours like deep green, purple and blue are traditionally the colours available in Maheshwari sarees, although even pastels and other unusual tones are now being made. The culmination of Zari border saree with pastel colours is a sight to savour.
An Ode to the Royal Weave
In our signature Trimetal collection, we add a subtle twist to the classic Maheshwari saree. Check out our online collection to shop these trendy gold, copper and silver "Lehar" motif zari bordered sarees.
Choose from pristine white, pitch black, peacock green, deep magenta, royal blue, classic red handloom Maheshwari, and silver zari sarees online from the comforts of your homes. They make beautiful festive drapes and thoughtful gifts too.
Our founder swears by them in summers, for work or vacays. Get yours here!