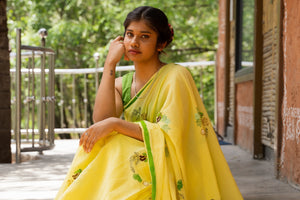 Taste of Life
---
This signature collection of summery, hand block printed, super soft cotton drapes takes inspiration from the Ugadi Pacchadi, traditionally made in Telugu households for the start of the new year- Ugadi.
Sweet- from sugarcane or jaggery, Sour- from tamarind water, Salty- from rock salt, Piquant- vagaru, as we call it in Telugu- from unripe mangoes, Heat- from black pepper, red pepper or chilli, and finally, Bitterness- from the neem flower.
The Pacchadi consists of these six different types of tastes- Shadruchulu, as they are called in Sanskrit and Telugu. When one tastes the Pacchadi, each one hits you a little bit, but the amalgam of flavours leads to the true experience of the philosophy behind the tradition- to accept the different flavours of life, and to make each experience your own. 
A definite #onceinawardrobe saree. Get yours now!
Buy designer sarees online