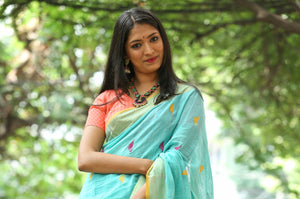 Phulia
---
Bengal is a land of food, love and craft. And these weaves from Phulia, just about 3 hours outside of Kolkata, are some of the most versatile and easy to drape sarees in the country! Breathable, comfortable, sassy, and so very elegant, these cotton sarees and blends from phulia are guaranteed to lift up your spirits!
Buy Bengal Cotton Sarees Online
Sorry, there are no products in this collection.
Phulia
Phulia handloom saree from Bengal tells us tales of partition and artisanship.
With intricate weaving patterns, sedate, yet vibrant colours and butter soft textures, these taant sarees could dethrone all the prized possessions in your wardrobe. Bengal Sarees are beautiful stories in themselves.
Phulia and Partition
After the partition in 1947, many Hindu weavers from Tangail (of Bangladesh) migrated to India and settled in certain pockets of West Bengal. Phulia (or Fulia), became a new home to Tangail weavers, who brought with them the weaving traditions of their ancestral land. This is where the Phulia Handloom Saree trend commenced. Other migrating weavers settled in the Hooghly and Burdwan districts of West Bengal.
Over the years, each of these regions developed their own style of weaving. Today, like Phulia, these are eponymous with the most well-known varieties of Taant (handloom) sarees famously known as Bengal Handloom Sarees.
Phulia weavers integrated their craft with the weaving style from a neighbouring town called Shantipur. This Phulia-Shantipur union eventually birthed the "Phulia Tangail" which remains a saree connoisseur-favourite. Bengal Cotton Sarees are a must have in your wardrobe.
More than Red and White Cliché
The best antidote to sultry coastal Bengal summers, these soft Bengal cotton sarees are weightless, comfortable and yet classy. The classic Phulia/Bengal handloom saree features a variety of motifs including floral, solar and geometric elements.
Contemporary designs incorporate jacquard stripes, Paithani motifs, buttis, Minakari patterns, paisley motifs and several elements indigenous to ancient Indian weaving. But the idea behind a Phulia Bengal Saree Tant saree has always been to let the fine fabric, the weave and the texture speak.
Phulias are Minimal yet Elaborate
Contrary to popular opinion, a Bengal cotton saree comes in colourful designs and statement borders. While there's great scope to introduce design elements in this handloom saree, the weavers have kept the structure minimal. You'd notice an ornate single or ganga-jamuna border and a simple print/pattern or stripes on the body and pallu.
It's unlikely for a Phulia saree to be loud or too busy. So, if you're on the lookout for an elegant statement drape for work, this is a must buy.
The 6YP Phulias
Our Phulias come with thread embroidered floral borders — in single colour or ganga-jamuna style. In happy colours and complementary running/contrast blouses, these sarees make for great work and festive wear.
Shop pure Bengal cotton or Phulia sarees online on our website.
Rest assured, you will not be disappointed.