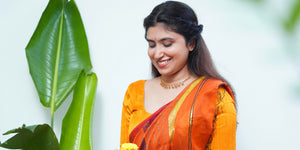 Maheshwari
---
Pure silk and pure cotton handwoven by the banks of the gentle Narmada, in the fort city of Maheshwar, these breath-taking sarees will remind you of royalty and heritage. Dress them up or dress them down, depending on the occasion- either way, they are your forever friends!
Buy Silk Cotton Sarees Online
Maheshwari
Drape it in summer or in winter, you're always ready to warm hearts.
Maheshwari Sarees date back to the 18th Century AD and were conceived at Maheshwar in Madhya Pradesh. From their patterns to the palettes, everything is inspired from the town and its ecosystem whose crux is reflected in these yards of wonder. Traditionally the craftsmen made use of vegetable dyes with local names for the shades, such as; Angoori (grape green), Gul Bakshi (magenta), Aamrak (golden yellow), Jaamla (purple) and Tapkeer (deep brown). The designs and patterns incorporated in it range from Eent (brick-like design found in forts) to Heera (diamonds), Lehar (a combination of the waves and ghats) to so much more.
Queen Ahilyabai Holkar was one of the most historically significant connoisseur of Maheshwari Sarees and ordered craftsmen and artisans from Malwa and Surat to design a special saree of 9 yards length, which we now know as the Maheshwari saree. These regal sarees woven in pure cotton had begun to be liked amongst the royal and aristocratic crowds. What made it all the more special was the pallu on both ends, which made a dual wear saree that could be draped on the reverse side as well. Adaptable and long lasting, over a course of time, these sarees came to be known as the famous Maheshwari sarees across the country. The grandeur of the forts in Madhya Pradesh and their intrinsic designs are what inspired the motifs on the Maheshwari saree.
How is a Maheshwari Zari Saree created?
Initially woven in wooden pit looms, these beautiful pieces make up for both casual and formal wear sarees. You can drape it around to bedazzle any occasion, be it an office event or a family function. With advancement in technology, weavers and handlooms have started using light weight metal frames to create these exquisite Silk Cotton Sarees. They also use multiple box sley to make the multiple wefts of a Maheshwari. The raw materials that are used for the process of weaving a Maheshwari handloom Saree are cotton, silk, and zari, which are procured from different parts of the country.
What makes a Maheswari different from others?
Traditionally, the border of a Maheswari Saree is designed to be reversible and could be worn both ways. You can wear it frontwards or backwards according to your convenience. The craftsmanship is so fine that you can hardly make out the difference between the front and the back. The Pattern of these Silk Cotton Sarees looks similar from both the sides. In warp, un-degummed mulberry silk yarn is used over and under with other threads of cotton yarn in weft. These sarees are heavier to carry but are much more compact than a Chanderi Saree. The complex process of weaving has been broken down into simpler steps to steadfast the production. It includes dyeing and untangling the yarn, reeling it by hand to convert them into small rolls, nimble weaving patterns and enhancement with zari, kinari, gold and gemstones. The beautiful borders make them one of the most loved Zari Sarees of all times. These lightweight and airy sarees get a glossy finish, which makes it a perfect blend for our tropical weather. A very interesting part about this weave is the use of wool in place of silk and cotton and is believed to be a rare yet prized possession. The best way to recognize an authentic Maheshwari saree is to check if it has the trademark reversible border, locally known as 'Bugdi'.
The difference between Maheshwari and Chanderi
A tanaa-banaa story from India's heartland.
The tools used in the making of both Chanderi and Maheshwari are Warp Machine, Handloom, charkha, and Dyeing Apparatus. The making of Maheshwari and chanderi handloom is closely related to each other; it includes designing, raw material procurement, dyeing, yarn opening for weft and warp, warping, weaving, and finishing.
Maheshwari sarees use broad borders followed by patterns inspired from those on the walls of the fort of Maheshwar whereas Chanderi sarees use a variety of designs in the border. The design of the border divides Maheshwari sarees into different types, namely; Maheshwar bugdi kinar, zari Patti, rui phool kinar, phool kinar, chatai kinar, V kinar, kahar kinar, bajuband kinar, etc.
The motifs used in chanderi sarees are more intricate and detailed than those in Maheshwari sarees. Maheshwari sarees have more linear patterns and fewer motifs while chanderi sarees have a lot of motifs and are mostly floral in design. In chanderi sarees the design is created on the weft while in Maheshwari sarees the design is on the warp at the beginning itself and the weft stays the same.
The Raw material for these Sarees is further processed to make it suitable to work upon. Dyeing is an important part of the whole process of the making of either a Maheshwari or a Chanderi. Cotton and silk require dyeing prior to their usage on the looms making them both one of the most desired Cotton Silk Sarees. Post the process of dyeing, the yarn is received in the form of bundles. Untangling and tightening of the threads are achieved by reeling, using a charkha, thus converting the bundles into small rolls. The master weaver then makes the warp.
The desire to own timeless pieces of art in forms of sarees is ever growing amongst women in India. The love for sarees is spreading across continents. Cotton Silk Sarees are not just pretty but sustainable too. They can be passed on to generations of women and make for a great family heirloom. Six Yards Plus intends on bringing you the best Maheshwari Sarees at great prices. Use these beauties for a wedding, a get-together, or as a formal wear saree to the office, you won't be disappointed. If you'd like, you can wear the saree to the office, turn it around and make it a shop stopper for a function. Why wait when you can buy, shop online for these lovely sarees from us.